toshiba_t-series_support:how_do_i_boot_my_t3200sx_with_an_empty_cmos_battery
How do I boot my T3200SX(C) with an empty CMOS battery?

To continue from this error screen, do the following: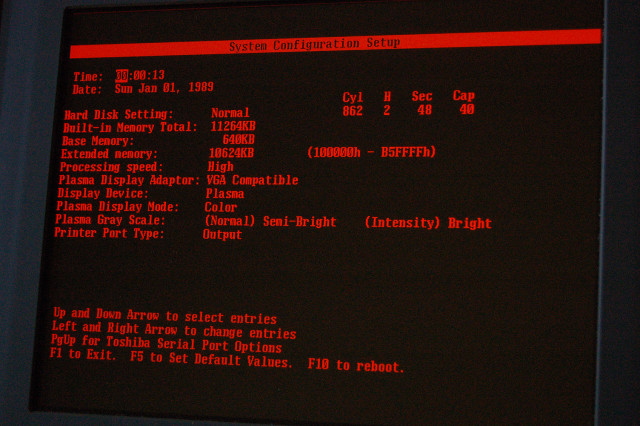 If needed, use the cursor keys to move to the menu option titled: Hard Disk Setting and choose the appropriate values.

My system has the 500 MB hard disk, but I use ANYDRIVE to manually configure the hard drive settings, so I don't need to adjust the Hard Disk values. I only need to press F10 to save settings and reboot.

Note! If you make the wrong selection on this screen, you can do the following:

Turn the machine off, then while booting, press CTRL + SHIFT + F10 when the computer powers on.

If this does not work, you may turn the machine off, wait 5 minutes, then turn it back on. If you have an empty CMOS battery, you will be prompted with the same CMOS error message again.

You may also manually enter the system configuration, by running the TEST3 utility found at the

Files and Resources

section.
toshiba_t-series_support/how_do_i_boot_my_t3200sx_with_an_empty_cmos_battery.txt · Last modified: 2018-04-09 16:30 by omolini